Invisalign® Teen: Designed with the Active Teen Lifestyle In Mind
Adolescence is a popular time for teens to undergo orthodontic treatment. However, many teens worry that metal braces will interrupt their active lifestyles. Additionally, many of them feel self-conscious about the flashy wires and brackets of traditional orthodontics.
Invisalign® Teen is a tooth straightening system that offers unique features that can benefit both you and your child. In addition to the discreetness and effectiveness of traditional Invisalign treatment, the Teen system is designed with eruption tabs and compliance indicators suited to your teen's growing smile. During your Invisalign evaluation at Davey Crockett Dentistry in Richmond, VA, Dr. William Davey Crockett can help you decide whether Invisalign is the best treatment option for your teen.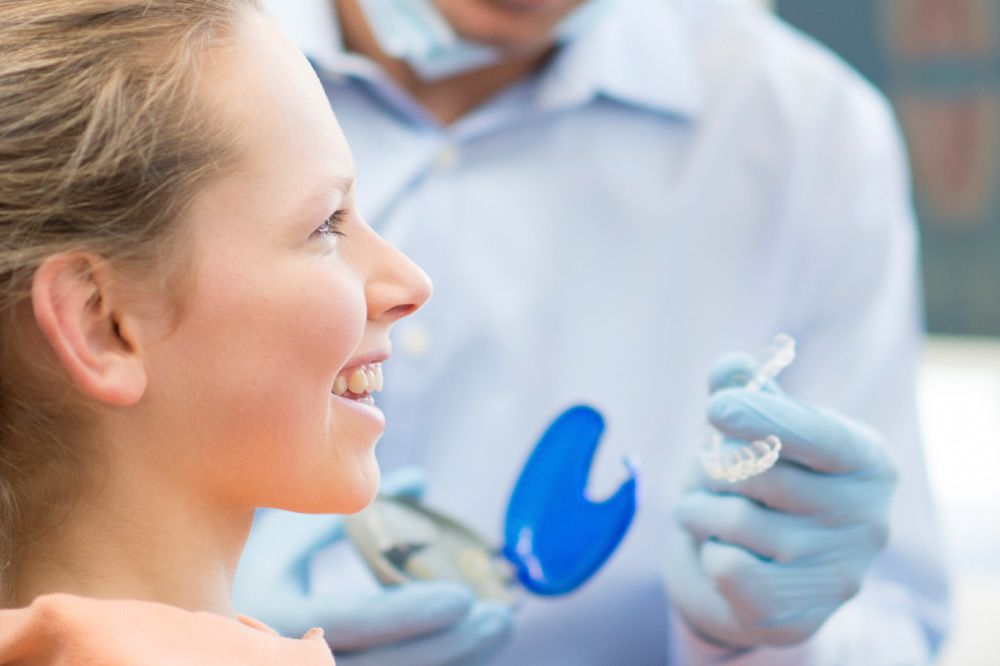 Invisalign Teen is designed to accommodate the needs of teenage patients.
What Makes Invisalign Ideal for Teens?
Invisalign Teen is a great alternative to traditional braces, offering both functional and aesthetic benefits for growing patients.
Discreet Look
Similar to traditional Invisalign, this system relies on clear aligners rather than the conspicuous wire and brackets that characterize traditional orthodontics. Teenagers can wear their invisible retainers without fear that others will notice them.
Improved Comfort
Additionally, Invisalign are less likely to interfere with a teen's speech or favorite activities like participating in sports or playing a musical instrument. The tray system, fabricated with a BPA-free plastic material that fits comfortably and snugly over the teeth, is also less likely to irritate the gums than traditional braces.
Potentially Lower Cost
For most patients, Invisalign can be more economical. While Dr. Bousaba will need to see your teen every six weeks or so to evaluate their progress, there is less risk of damaging the aligners during a sporting event than there is with braces. Consequently, there is no need for extra, expensive visits to the dentist.
Aligners are Removable
Another big benefit for teens is that Invisalign aligners can be taken out for short periods of time such as during lunch. This removability means your child can maintain their regular flossing and brushing routines, eat as they normally would, and enjoy all their favorite foods. This is a notable advantage over traditional orthodontics, which require tedious at-home oral hygiene routines and restrict hard or chewy foods.
Invisalign Teen is a great alternative to traditional braces, offering both functional and aesthetic benefits for growing patients.
Special Features Just for Teens
Invisalign Teen aligners are also adapted to meet the needs of younger patients.
Compliance Indicators
One notable teen-friendly feature is the compliance indicator. A blue dot on the aligners slowly fades as the aligners are worn, effectively monitoring your child's treatment progress. When the blue dot disappears, that aligner has been worn for its full required duration and another aligner can be switched in.
Eruption Tabs
Invisalign Teen aligners are also manufactured with eruption tabs. These allow for a second set of molars to erupt unimpeded during Invisalign treatment. Second molar eruption typically occurs about the same time that orthodontic therapy begins and can complicate or undermine tooth alignment efforts if a smooth transition for is not accounted for.
Protecting Your Child's Smile
A straighter smile can promote oral health throughout your teen's life. The features and advantages of Invisalign Teen can make it easier than ever to convince your growing child that orthodontics are right for them. To schedule an evaluation, you can call us at (804) 282-2990 or send us an online message.