Home/
Invisalign® vs. Braces
Invisalign® vs Braces: Finding the Right Option for You
Many patients want to achieve straighter smiles but are overwhelmed by the array of options available for orthodontic treatment. When choosing between Invisalign and braces, there are several key factors to consider, including the conditions treated, materials used, and the appearance of each. Although Invisalign offers several advantages over traditional braces, there are a few unique cases in which Invisalign may not be appropriate. During your consultation at our Richmond, VA, office, Dr. William Davey Crockett will assess your case and recommend which treatment is right for you.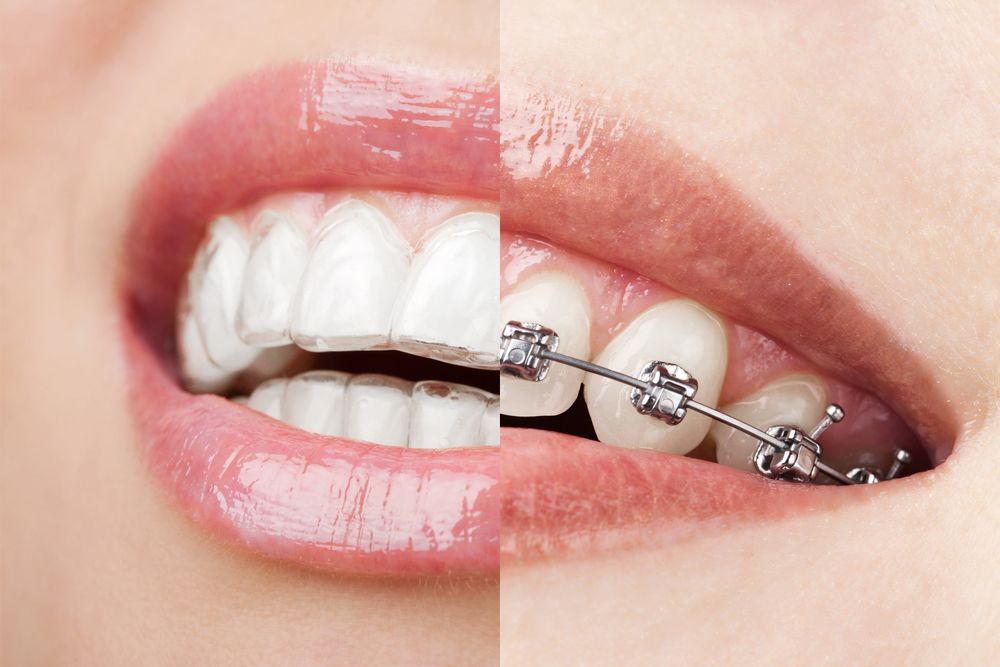 Invisalign aligners eliminate the need for metal brackets and wires.
What Do They Have in Common?
Invisalign and traditional braces are both designed to gradually move teeth into alignment over the course of several months to several years. Each of these treatments can correct a range of orthodontic issues, such as:
Rotated teeth
Crooked or overlapping teeth
Gaps between teeth
Overbite
Underbite
Crossbite
Open bite
Additionally, Invisalign and braces have comparable overall costs and most insurance plans with orthodontic options should cover either treatment.
Although both orthodontic options have similar costs, they look, feel, and function differently.
Comparing the Features
Although Invisalign and braces can both correct misalignment, there are several differences to consider when choosing the right treatment for you.
Conditions Treated
Invisalign is suitable for most patients with mild to moderate tooth and jaw alignment needs. However, for more complicated cases, traditional metal brackets offer a more powerful solution.
Materials Used
Invisalign uses a series of aligners that are customized just for you. The clear aligners are made using SmartTrack™, a thermoplastic material that closely mirrors the look and feel of a teeth whitening tray. Alternatively, metal braces consist of brackets, wires, and bands which can irritate the insides of your cheeks.
Timeline
With Invisalign, each tray is worn for about two weeks, gently guiding your teeth into position until you are ready for another tray. The sequence of trays is predetermined by your dentist and the entire treatment time is about 12 to 18 months.
In contrast, braces are permanently placed on the teeth during an initial orthodontic appointment. Every month or so, your dentist will adjust the wires. The braces are removed when your ideal smile is achieved.
Removability
One of the greatest benefits of Invisalign is the ability to remove the trays. The removable aligners allow you to eat your favorite treats, such as crunchy and chewy foods. Such foods are off-limits with braces because they can damage the wires and brackets. Additionally, caring for your teeth is easy when you can remove the tray, allowing you to brush and floss normally.
Although many patients prefer being able to remove their aligners, this can be a problem for those who have trouble remembering to put them back in. To be effective, the trays must be worn at least 22 hours a day. Young patients may forget to put the trays back in their mouths after eating or removing them for activities.
Appearance
In addition to being removable, Invisalign aligners are virtually invisible. Others will not notice that you are wearing orthodontics. This is a major advantage for patients who feel self-conscious wearing conspicuous dental appliances.
Which Treatment Is Right for You?
If you are unsure whether Invisalign or braces are the right choice for you, Dr. Bousaba can help you decide during your consultation. Although both orthodontic options have similar costs, they look, feel, and function differently. To review the benefits of both treatments with our team, schedule an appointment today by leaving us an online message or calling us at (804) 282-2990.